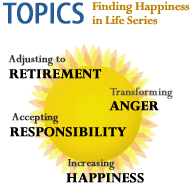 click links in Sun
Presentation November 2014
CREATING AN OPEN OPTIMISTIC OUTLOOK ON LIFE
College and University Presentations: Click here to view and print the flyer.

Dr. Jules D. Burgevin earned his Ph.D from the Maxwell School of Citizenship and Public Affairs at Syracuse University. He has been an activist and speaker on "retirement", "responsibility", "transforming anger", "the energy in happiness" . . . for much of his adult life.
"Jules Burgevin takes a genuine interest in people and in his community. In his talks, he demonstrates his personal commitment to helping make this a better world."
Matthew F. McHugh
Member of The U.S. House of Respresentatives, 1975-1993
Former Chief Counsel, Cornell University
Presently Residing In Leesburg, Virginia

"Jules Burgevin is one of the best speakers I have ever encountered. He inspires audiences to new levels of motivation and commitment. He is on the cutting edge of learning, leading and helping people transform their lives."
Priscilla Shumway
President, New Learning Presentation Systems
Charleston, South Carolina
"Dr. Burgevin is provocative, captivating and insightful. He is outstanding at 'taking the pulse' of his audience and is highly adept at gaining and holding their attention. Jules is a very appropriate speaker for a faculty or business professional development day, especially in a Keynote capacity. He is excellent at setting a tone based on the designated goal for the day. He does this in a way adults will find invigorating and challenging as they face professional and/or personal contemplation and growth. A presentation by Dr. Burgevin is an opportunity well worth the investment. Every participant will certainly benefit from such an unforgettable experience."
Teresa A. Munson,
Former Associate Director of Admissions
Sage Junior College of Albany, and Former Director of Guidance and Counseling,
Berne-Knox-Westerloo Central School, Berne, New York
"On October 24, 2008 at the Double Tree Hotel in Rochester, N.Y., Dr. Jules Burgevin delivered an outstanding luncheon keynote address to the members of our professional association. It was our annual state conference and he spoke on the topic 'How to Increase Happiness in Your Life.' The evaluations of Jules's keynote were extraordinary----in the overall tone of excellence."
Linda Traynor,
Conference Chair, New York State Association of Family and Consumer Science Educators,
Rochester, N.Y.