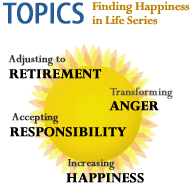 ** New Presentation **
CREATING AN OPEN OPTIMISTIC OUTLOOK ON LIFE
Should we always be optimistic? Should we create and take along with us, every where we go, in every thing we do, an attitude, a way of being, of thinking, of doing that makes others happy? Should we create a presence that makes others comfortable, that invites others to be with us, to learn from us, so that they will go through life situations with us? How do you create an optimistic outlook that makes you happy in your own lifeway? The answers? That is what this presentation is really all about.
The Presentation
1. Let's look at the concepts of connecting to others with kindness and friendship, and the two things we all search for in life.

2. The choices we make and the actions we take: it is ALL there, isn't it?

3. Which mode do you live in? Is your glass 1/2 empty, cracked and leaking, or is it 1/2 full and filling?

4. When we choose to create and keep an Open Optimistic Outlook On Life this is what we do, and this is what happens:

A. We move out of the realm of CAN'T. . . .

B. We move out of the words, the thoughts, the actions of NEGATIVE . . . .

C. We become more interested in SOLUTIONS . . . .

D. We reduce, even eliminate, depression in our lives. . . .

E. We realize that anger is not necessary. It blocks us, hurts us and others.

F. We affirm ourselves and we affirm others. We feel good about ourselves. . . .

G. We are in control of our lives and we do the best we can and we worry less.

H. Optimistic people are healthier, live in life styles that keep them healthy . . . .

I. Optimistic individuals have hopefulness, have confidence about the future . . . .

J. Being optimistic in your life is an attitude, a way of thinking, a way of seeing reality, and a way of being happy.
From the Audience
"Throughout my life I've wallowed in my share of pessimism, gloom, and doubt. Worse, my attitude toward others has often been benign indifference. And yet as I listened to Dr. Jules Burgevin speak on "Creating an Open and Optimistic Outlook on Life," I suddenly felt a lump in my throat and tears in my eyes. As I listened to his message of love, optimism and the freedom to change, I thought, "I can do that. I can be that person. I'm free to embrace a positive outlook. I cannot only open myself to the love of others, but I can extend my love to them." Dr. Burgevin is a powerful speaker. That power comes from a lifetime of having lived his message. His lecture "Creating an Open and Optimistic Outlook on Life," I promise you, can change your life too. If only you'll let it."
Timothy D. Bunn
Retired: Executive Editor, Syracuse Herald-Journal/Herald American
Deputy Executive Editor, Syracuse Post-Standard Syracuse, N.Y.
"After hearing Dr. Jules for the first time, I knew who would be the person to provide an opening day talk to the 800 members of our administration, faculty, and support staff. On September 6, 2011 he offered 'pearls of wisdom' leaving reflection, personal value, motivation and optimism to usher in the beginning of our school year. Jules is a wonderful person with a genuine appreciation and caring for the individual person on a continuum to include all of humanity. So, after the second time of hearing Jules present, not only did I personally benefit from his insights, but our entire staff came away with a springboard to "Creating an Open Optimistic Outlook On Life."
Bill Crist, Superintendent of Schools
Oswego City School District
Oswego, N.Y.
"The substance of Jules' message is matched only by the manner in which he delivers it. He is an utterly unique and riveting speaker whose message and style combine to leave the listener with an indelible memory of an experience I dare say they will not find anywhere else."
Paul Starr, Attorney
Baltimore, Maryland
Hamburg, New York, Phi Delta Kappa Initiation Dinner
"I had the opportunity to hear Dr. Burgevin's keynote presentation 'An Open Optimistic Outlook On Life' at the western New York Initiation Dinner-Meeting of Phi Delta Kappa. It was extremely inspirational, both on a personal and professional level----which makes so much sense because, as I have discovered, each enriches the other. I believe all educators should hear this talk at least once if not at different times in their careers. I loved feeling invigorated and encouraged to be the best person and teacher I can be, and also being reminded of the importance of acting with kindness and integrity in every moment of every day. Dr. Burgevin's talk was not just a 'model' presentation; it focused on building character in all the people who are at the very heart of the schools."
Amy F. Losi, Senior High School Teacher and Chair of English Department, 2002—2010
Hamburg Central School, Hamburg, New York