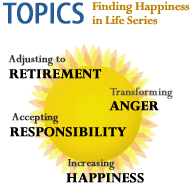 ** New Presentation **
CREATING AN OPEN OPTIMISTIC OUTLOOK ON LIFE
Click below for specific testimonials
Keynote Addresses
College and University Presentations
Public School Presentations
Additional Thought Provoking Recommendations
Keynote Addresses
New York City, New School University
On behalf of the Counseling Services, Health Education and the Office of Student Development and Activities of New School University I want to thank you for the three presentations you made on October 10, 2003 at our annual event, "A day of Learning: In memory of Kristin Rita Strouse." The objective of this year's event was to inspire New School University's Community to expand their horizon; your presentations helped us achieve that goal. Your early morning keynote address, "Making Enormous Changes in the 21st century" coupled with your two workshops (1) "What is the Cosmic Energy and How Does it Work?" and (2) "Channeling Your Anger" had a profound and positive effect on the staff, undergraduate, and graduate students who heard you speak. You beautifully intertwined knowledge, statistics, and personal stories to create a memorable and effective experience. You are an inspiring and dynamic speaker who is able to create a sense of possibility in your audience. The possibility of opening up to the power of Love and that personal and social change is possible. You have an important message that needs to be heard and integrated more fully into our lives. I look forward to creating more possibilities for you to speak and present on our campus. Thank you for leaving an imprint of your work with us.
Tracy Robin, LCSW, Director of Counseling Services
Presently Assistant Vice President for Student Health and Support Services
New School University, 135 East 12th St., 2nd Floor, New York, New York 10003
Rochester, New York, New York State Association of Family and Consumer Science Educators
"When I was considering possible keynote speakers to invite to our annual New York State Conference--I thought--of course--I will speak with our State wide committee about inviting Dr. Jules Burgevin. I first heard Jules speak at an all day seminar I was attending (Spring 2007) in Rochester, N. Y. I was so impressed with his inspirational and memorable presentation that I knew then I would propose an invitation to him. After our State wide committee decided to invite Dr. Jules to deliver a keynote address at our three day Conference on the weekend of October 24, 2008 at the Double Tree Inn in Rochester, N.Y. I called him (March 2008) about topics that appear on his website. After an exchange of phone conversations and e mails----we decided on the fourth topic on his site----"Increasing Happiness in Your Life." Jules gave a "capstone keynote" at our Saturday luncheon to the members of the New York State Association of Family and Consumer Science Educators. The evaluations of Jules Burgevin's keynote presentation were extraordinary--in the overall tone of excellence. Let me weave some thoughts together from these evaluations:
"This inspirational speaker is really excellent." "It was easy for me to understand him and to stay focused." "He is very passionate about the topic." "The talk he gave was out there---new age---and I felt bad that it was only 40 minutes----as I would have liked to have heard more..." "It was really great.!!" "Very inspirational----I've heard him speak twice before at NYSTR Meetings." "He is an awesome speaker." "It was very good." "I'm in love."
Thank you Dr. Jules Burgevin. I am certain that our conference attendees left for home with a message that will inspire them in both their personal and professional lives. You were an excellent speaker with wonderful stories. We look forward to interacting with you in the future. Best regards,"
Linda Traynor, Conference Chair
New York State Association of Family and Consumer Science Educators
"Empowering Individuals and Families"
Rochester, New York
Ithaca, New York, Ithaca College
" I am just now recovering from an exhausting yet satisfying Alumni Weekend '02!! And of course, the weekend wouldn't have been the same without your outstanding contributions of time and talent. I heard so many positive comments from those who attended your keynote, Jules. They found your words inspiring, a wonderful call to action. On behalf of the entire Office of Alumni Relations, the Association Board of Directors and all of our alumni, thank you for all that you did to make Alumni Weekend 2002 such a great success!!!"
Graham Stewart '81, M.S. '01
Director of Alumni Relations, Ithaca College, Ithaca, New York
College and University Presentations
"I have experienced Jules addressing large audiences. He is an inspirational and charismatic speaker who enlightens and excites the audience. He is dynamic, vibrant and informative. He has a way of inviting the audience into a tone and mood that he sets, and then brings them along to a point where they are on their feet giving him a standing ovation. I am not quite sure how he does it, but without fail he provides the audience with wit charm intelligence and demeanor that is remarkable. No matter what the topic, the energy of love, responsibility, the future, he can weave a web that is unlike any other."
Dr. Elaine Leeder, MSW, CSW,MPH, Ph.D.
Former Professor of Sociology, Ithaca College. Presently Dean of Social Sciences, Sonoma State University, Rohnert Park, California
"Thank you for coming down to University Park for our retreat. I have heard many positive comments regarding your presentation, "Making Responsibility Happen . . . with Happiness in Mind." The 50 participants spoke in particular about the perspective you bring to life and they were very pleased that you were able to share your thoughts and insights. I am sorry that you had to leave before I could thank you personally. Best wishes for the rest of the year and feel free to stop by when you are visiting State College."
Stanley E. Latta, D.Ed, Senior Director, Unions and Student Activities
The Pennsylvania State University, University Park, Pennsylvania
"On behalf of the Students Against Violence, we would like to thank you for being part of Montclair State University's Peace Week in April 2006.
Both of your presentations, "Transforming Anger into Positive Action" and "Trust Me: Violence Ends Where Love Begins" touched all of those who attended and were truly inspirational. Your energy that you bring to this world is a breath of air and more people should have the spirit that you possess. We are pleased to have you as part of our lives and cannot wait to hear what other beautiful things you will be doing in life.
Thank you again for your contributions and we look forward to working with you again in the near future."
Erica Emmich, President of Students Against Violence
Bruce Yankouski, Vice President of Students Against Violence
Montclair State University' Center for Non-Violence and Prevention Programs
Montclair, New Jersey
"Dr. Burgevin is provocative, captivating and insightful. He is outstanding at 'taking the pulse' of his audience and is highly adept at gaining and holding their attention. A presentation by Dr. Burgevin is an opportunity well worth the investment. Every participant will certainly benefit from such an unforgettable experience."
Teresa A. Munson, Former Associate Director of Admissions. Sage Junior College of Albany, NY.
"Thank you so much for the excellent seminar you presented here in the Decker Health Science Building. The 85-90 participants who were part of the five hour seminar on "Turn Your Anger Into Positive Action" were delighted with your presentation and the evaluations conducted gave you rave reviews. You have a very kind heart and that really came across in your presentation and through your interactions with participants. . . . "
Debra A. Morello, Director, The Center for Community Education, Broome County Community College, Binghamton, NY.
". . . I have seen Dr. Jules Burgevin give dozens of public presentations and lectures and work with literally thousands of students. He is one of the most inspiring and impassioned educators I have ever known. He has moved generations of . . . college students to think about their social responsibilities and to take on a morally committed view of life."
Joel Savishinsky, Ph.D The Charles Dana Professor of the Social Sciences, Department of Anthropology, Ithaca College, Ithaca, NY.
"Thanks for your role in making our L.I.F.E. Leadership Conference . . . a great success. We appreciate the time, energy and thought that went into your keynote address and your two unique contributions to the spectrum of workshops. Conference attendees were struck by your kind and generous spirit."
Jeffrey Edgarton, Director of Co-Curriculum Education, Cazenovia College, Cazenovia, NY.
"Jules was a keynote speaker for a conference I had planned several years ago. When I heard him speak I was inspired to look carefully at myself to find greater strengths and to share more openly those things in life that I feel passionate about. Even now I still hear his voice and remember the wisdom he shared with sincerity, eloquence and vision. I believe that Jules will 'awe' you and motivate you to be the best you can be."
Hope Brandis Horowitz, Associate Professor Social Work/Sociology, Northampton Community College, Bethlehem, PA.
"What a wonderful and provocative presentation Dr. Jules Burgevin made about 'Change in the 21st Century'. He spoke about the Energy of Love, the need for healing and the absolute necessity of . . . having us examine the fundamental parts of our reality that we can most change. I feel certain that most of us will be thinking about what he said for weeks and months to come."
Sarah E Simpkins MSW, Student Services Associate, Office of the Dean of Students, Cornell University, Ithaca, NY.
"On behalf of the Counseling Services, Health Education and the Office of Student Development and Activities of New School University I want to thank you for the three presentations you made . . . here. Your. . . morning keynote address 'Making Enormous Changes in the 21st Century' coupled with your two workshops (1) 'What is the Cosmic Energy and how does it work' and (2) 'Learning to Channel Your Anger' had a profound and positive effect on the staff, undergraduate students and graduate students who heard you speak. You have an important message that needs to be heard and integrated more fully into our lives."
Tracy Robin LCSW, Director of Counseling Services, New School University, New York, NY. Presently Assistant Vice President for Student Health and Support Services
"On behalf of the entire staff of the Romulus Central School District, I would like to thank you for the inspirational and uplifting talk during our March 2002 Conference Day. As you said, it is imperative that we take time to reflect upon our interactions with others as we strive to make a more just and positive environment in which we live. Thank you again for sharing your joy of life and reminding us all of our value and the contributions we make to the lives of young people. It is a pleasure to be with you."
Casey W, Barduhn, Superintendent of Schools
Romulus Central School, Romulus, New York
"Dr. Jules Burgevin is an excellent choice if you want a credible, knowledgeable, inspirational speaker to address your group. I first met him when I attended a retirement seminar; his style of delivery, integrous demeanor, audience rapport, and solid understanding of the information led me to inquire about his availability to present several customized workshops for my school district. His presentations to both educators and support staff received very high ratings in all categories, and several noted his deep commitment and passion for learning. I would highly recommend Dr. Burgevin to address any audience."
Barbara C. Brace, Program Monitor for Professional Development
North Syracuse Central School, North Syracuse, New York
"How does one describe a walking, talking miracle-maker? The answer became clear to me when I attended the first of several seminars in which Jules was addressing approximately one hundred high school students as the final speaker of a retreat they had attended. He just dove right in, wormed his way into their hearts, and instilled in them a far greater life-purpose than they had ever imagined."
Gay Montague, English Teacher
Liverpool HIgh School, Liverpool, New York
"As the school year draws to a close, I wanted to thank you once again for spending time with my Holocaust Studies classes on May 5, 2000. To keep high school students riveted in their seats for 1 1/2 hours is no easy feat. 'We are what we do . . . . .. . .and may do what we choose" was the focal idea that enabled my students to reflect upon the responsibility for the evils of 1933-1945. The concept that they are what they do is one that they can carry with them as they begin their adult lives."
Carol Tousant
Indian River Central School, Philadelphia, New York
"A.B. Parker Elementary School's first site-based professional development day began with the inspirational speaker, Jules Burgevin. A gentle, spirited teacher, Jules speaks to the heart and nurtures the spirit through his truth, wit and passion for life. His message about love is compelling, uncomplicated and helpful. Thanks for sharing a bit of yourself with the teachers of Parker's community of learners."
Kevin M. Yard, Principal
A.B. Parker School, Cortland, New York
Additional Thought Provoking Recommendations
"Dr. Jules Burgevin is a remarkable man. He is a deep thinker, an amazing communicator, and the epitome of an educator. Jules has an unparalleled ability to reach his audience. I first heard him speak twenty-six years ago and he continues to be a great intellectual source and a personal inspiration for me. He truly is an unfailingly kind, gentle and giving human being."
Karen L. Garfing, Attorney-At-Law
East Windsor, New Jersey
"I first heard Jules speak twenty years ago. I recall his words like it was yesterday. His wisdom, humor, insights are rare precious gifts. He is a magical man. He finds his way into your psyche and visits you again and again. He is a 'teacher', a wise man, and once you hear him he will always be with you."
Lauren Burns, Mentor Supervisor
DARE Family Services of Greater Boston, Somerville, Massachusetts
"Jules is a thoughtful, engaging, passionate guide to self awareness and social understanding. He has a thoroughly engaging personality, manifests a lively sense of humor, and provides true leadership."
Thomas C. Longin, Ph.D, Vice President (retired 2004)
Association of Governing Boards of Universities and Colleges, One Dupont Circle, Washington, D.C.
"Mother Teresa said, 'It is not what we do, it is how much love we put out in the doing.' If this quote resonates with you, then you will love to hang out with Jules for a few hours. A number of us who attended his enlightening Election-Day 2004 workshop, entitled 'Transforming Anger into Positive Energy' felt that we needed to (and could) immediately apply the techniques we learned. Jules is blessed with a cosmic yet grounded view of life that he openly and lovingly shares with his audience. Carve out three hours of your busy schedule if you know that he is coming to a place near you."
Gayle Palka
Math Professional Development Specialist, Broome-Tioga BOCES, Binghamton, New York