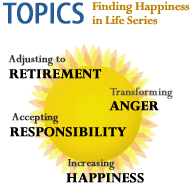 ** New Presentation **
CREATING AN OPEN OPTIMISTIC OUTLOOK ON LIFE
Using humorous stories and personal insights, Doctor Jules draws each participant into the life passage of retirement.
In an energized and fascinating presentation, he shares with the audience the primary adjustments each of us may choose to make as we create an optimistic outlook in this change from work to retirement.
The Presentation
Overcome any fear of retiring

Never face boredom again

Learn new ways to tell time

Discover new words that replace the word "retirement"

Develop a new sense of post-work responsibility

Realize how to live a life that creates optimistic happiness

Find a greater sense of awareness and flexibility in their lives.
From the Audience
"I heard Jules speak twice in 2005. Most recently I heard him speak for two hours to 60 members of this BOCES staff. Dr. Burgevin's presentation impacted his audience intellectually and emotionally. His knowledge of the adjustments people will make as they approach retirement is really amazing. In his fascinating presentation he provided examples from his own experiences which enlightened, informed and delighted the participants. Evaluations of his presentation were outstanding. I believe that hearing him speak will change the way you think about your life."
Dr. Kim Kirsch, Ed.D, Director, Department of Human Resources, Monroe 2-Orleans Board of Cooperative Educational Services, Spencerport, New York.
Presently Assistant Superintendent for Human Resources, Williamsville Central School District, East Amherst, New York.

"Your segment of our program on 'Adjusting To Retirement,' which you've presented throughout New York State for sixteen years (1993 to 2009), has helped thousands of our members to see the importance of looking at retirement in ways which go beyond financial considerations. These include the emotional adjustments retirees face, dealing with change and stress, and the power a person's thoughts, attitudes and self-image have in achieving a meaningful retirement. You are a gifted public speaker who brings a tremendous amount of energy and enthusiasm and expertise to your presentation. Surveys of our seminar attendees show an overwhelmingly positive response to your message. I have no doubt that you speak knowledgeably on many diverse topics to groups large and small and would have no hesitation in recommending you to anyone interested in your services."
John W. Blatchford, Coordinator, Pre-retirement Planning
New York State Teacher's Retirement System, Albany, New York.
Thank you for coming to the Kingston City School District on March 13, 2006 to speak on the topic "Approaching Retirement". More than one hundred ten members of our professional staff thoroughly enjoyed your two hour presentation. Your session was quite the hit!! The positive responses from the evaluations done were truly overwhelming! We look forward to having you back and I will contact you with some dates in the very near future.
Greer Fischer, Assistant Superintendent of Schools for Curriculum and Instruction,
Kingston City School District, Kingston, New York.
"Your topic, 'Adjusting To Retirement' and unique delivery have enhanced our program and have helped make it one of the leaders in the field of pre-retirement education, among organizations offering this service to their members. Your background as a sociologist, educator and retiree allows you to bring many perspectives to your presentation and establish a comfortable rapport with your audience."
David T. Daly, President (2001-2002)
The National Pre-retirement Education Association . . . and Retired Coordinator of Public Information Services, New York State Teacher's Retirement System, Albany, New York.